StereoStickMan.com 5-24-2023 Review
Lion Drome S/T Release
Taking inspiration from the renowned Wall Of Death features at many a motorcycle festival, Lion Drome more than live up to the ferocity, skill and grit of their name throughout this genre-fusing, anthem-loaded album.
Here and Gone kicks off the self-titled new album from the Colorado outfit with a bold fusion of raspy rock vocals, soaring live drums, guitars and electronic layers of colour.
We rise up with precision and passion, from story and detail to the simple resolve and chorus of 'find a way to go', and the band top this delivery and arrangement with a cascading guitar solo that naturally illuminates the nostalgic aspect off their sound.
Things mellow out briefly for a melodically enchanting SOL 2208, intrigue and ambiance setting the mood for a conceptual deep-dive that effectively shines lights on the vastness of topic exploration that is this album in full. Increasingly the soundscape gathers momentum, the performance on the drums reaching peak levels and the surrounding guitars and vibe swiftly following suit.
Fashion Blind keeps that pro-ability at the forefront, touching on a post-punk energy in both political concept and delivery, promising another heroic listen that tops off three fiercely powerful first songs.
Only nine-tracks in full but clearly aware of its own completed status as an album and art-form, Lion Drome displays audience-awareness by way of contrast both within each song and throughout the playlist. Consider the haunting intimacy and raw guitar sound of Parallel Construction, evolving into an explosively immersive, hypnotic arena-rock realm that's damn near psychedelic as it pours through.
Humble other-worldly electro layers also introduce with mystique and atmospheric appeal That Bird Don't Fly 'Round Here no More (reprise) – a personal favourite, almost free-style as it blends drama and dreamy escapism.
Lips Of Faith is also a highlight, catchy riffs and rising anticipation meeting with an unsettling vocal warp and yesteryear rock production to weave a story of the spouses left to maintain home life as soldiers are deployed for war. No subject matter seems out of reach for Lion Drome – nor any creative direction or sound.
Talk of conflict continues for the almost pop-punk tempo and tone of Greatest Generation, another quirky stand-out for its scenery and short lines that grip.
To wrap things up, the retro warmth and familiar patterns of covers Eyes Without A Face and Sunglasses at Night strike with unexpected yet welcomed twists of melody and pace.
Perhaps epic is something of an understatement in terms of how vast and artistically-rooted each of these songs proves to be. For the contemporary listener looking for that timeless route back to progressive exploration and rock depth, Lion Drome is an easy must.
Reviews
PitchPerfectSite.com 11-04-2022 Review
Lion Drome
​self-released; 2022

4.0 out of 5

By Dom Eagle
Lion Drome is an alternative hard-rock outfit that hails from Northern Colorado. Led by Mike Lopez, this group offers something significantly edgier than Lopez's solo work. Their sophomore album Lion Drome is an exciting look at what's to come from this promising band.

"Here and Gone" instantly impressed me, as I'm a big fan of a well-crafted album opener. I like grandiose and ambitious musical statements, and Lion Drome certainly offers that on their first song. The marvelous staccato strings and electric guitar chugs definitely screamed, "Welcome to the album!" I love the way in which synths and strings mesh with sizzling, distorted guitar on this introductory track. Lopez's vocals are also a captivating element of the piece. Nothing feels muddy or buried. Every instrument has its place and purpose.

The second track, "SOL 2208," takes a different sonic approach, while maintaining the dark and haunting aesthetic present on the opening track. That's how you make an album. Keep the vibe consistent, but offer something new, musically, on each track. I love what they've done here. I hear a real Dillinger Escape Plan influence on this song. The dissonant guitar melody and harmonized vocals are both truly hypnotic. In particular, I enjoyed the heavy switch-up in the last segment of this nearly-seven-minute masterpiece; the heavy riff, chaotic cymbal crashes and piercing lead guitar solo merged to deliver a mesmerizing finish.

The riff on "Fashion Blind" somehow manages to be incredibly upbeat without losing the dark, cutting vibe of the first two tracks. Kudos to Lion Drome for managing, as I mentioned, to maintain a consistent dark aesthetic but still attempt something new on every song. This transitions smoothly into the equally mellow, lounge-rock ballad, entitled "Parallel Construction:"another moody, atmospheric banger, driven by flanger-heavy electric guitar and tempered drumming. I was transfixed by the epic finish with frantic, distorted strumming, synth swells and a booming beat. I truly love a song that can fill me with that sense of euphoria in its final moments.

"That Bird Don't Fly 'Round Here No More (Reprise)" opens with a very distant, reverberating guitar riff and echoing vocals. It's the most ethereal and electronic output from Lion Drome so far, but it clings to the dark and brooding energy that has been present on every track so far. They continually reinvent themselves without ever losing their aesthetic. Then, "Lips of Faith" smoothly follows, maintaining the serene and atmospheric vibe of the previous song, gradually reintroducing us to some of their heavier elements with a scorching guitar solo halfway through the song. The second solo in the final minute of the track amps up the distortion, and the drumming becomes more chaotic once more.

The rock energy continues on "Greatest Generation." Though it opens with a rather restrained clean guitar melody and gentle singing, the brief strum of a heavy guitar gives the listener a heads up that something epic awaits. As promised, booming choruses and a fierce electric guitar solo follow. I particularly enjoyed the vocal hook in the choruses. Then, in a complete left-turn, "Eyes Without A Face" opens with '80s synths and surf-rock guitar. It is a rather sweet little ballad but also the first tune to break away from the sinister and foreboding energy of the album as a whole. Still, it was a lovely song, so it would've been a shame to leave it out of the album. And it did deliver huge hard-rock power chords in the second half, so it wasn't a complete disconnect from the rest of the songs.

​"Sunglasses at Night" is a heavy closing track that neatly wraps up Lion Drome. A throbbing bass drum drives the track, but the most prominent element is the heavy-metal guitar arpeggio which transforms into huge, electrifying chords in the choruses. There are some signature synth strings in the verses, too. Lion Drome offers a very catchy vocal melody in the choruses and some magnificent lead guitar throughout the song, as well. A truly powerful ending to a truly powerful album.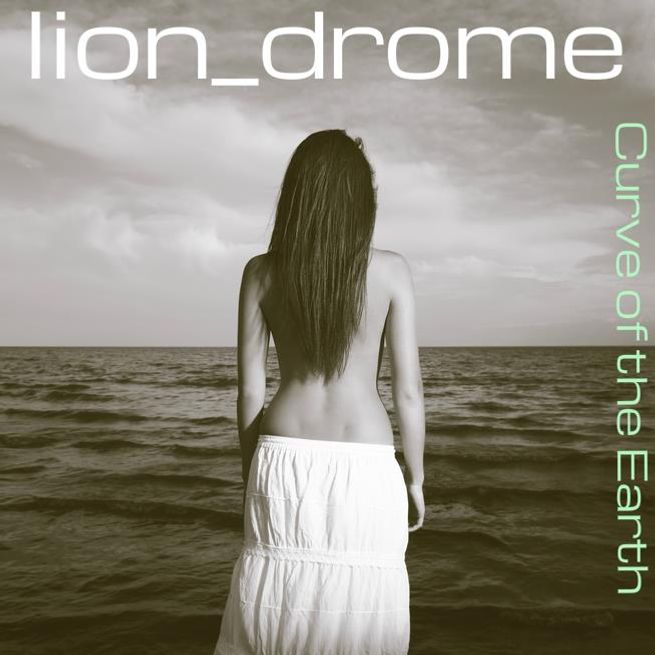 stereostickman.com 6-15-2023 review
2014 debut "curve of the earth"
Circling back a little for an impressively timeless collection of tracks, Colorado rock project Lion Drome delivered an unexpectedly epic and raw debut album, in 2014 – the mighty and mesmeric Curve Of The Earth.
Conceptual depth and vulnerability seem to meet with a bold rock integrity and a consistently evocative voice, first ignited by the vastness and weight of The Nite Is On (Feat. Chris Heckman) – taken further still by the suddenly electronic-rock warmth and equal poetic contemplation of Winter.
Performance and writing are key, the soundscapes supporting and enhancing these qualities but still keeping them at the forefront. The voice is theatrical yet honest, the lyrics clever, thoughtful and revealing; often piercingly relatable.
These two opening tracks alone depict such qualities in strong supply, both intensely gripping anthems of fearless passion and longing, almost progressive structurally, but each offering a completely different musicality along the way.
Twelve tracks in full, Curve Of The Earth proves to be one of those gritty indie rock projects balancing warmth of design with authenticity of soul and uncertainty – making it an easy one to let play, at volume.
Great songwriting, interesting and a little in tune with the likes of Ash or Smashing Pumpkins from back in the day, with an emotional and expressive top-line that leans more notably towards rock and roll's greatest stage acts.
The title-track Curve Of The Earth is a fine example of that balance, before the briefly Stone Sour-like soul of Shake It Off redirects things towards the intimate and alluring. Arrangement matters, and this stripped-back, artistically poignant moment is perfectly placed for impact.
Highlights include the distortion and clarity dynamic of Angel (Nobody Told You), anthemic with its short lines and strong hits of rhythm and power, and the subsequently enchanting guitar-work and poetic imagery of a sensational Then It All Went White.
We also get to hear the original work of That Bird Don't Fly Round Here No More, from which the Reprise emerged via 2022's album Lion Drome, highlighting the versatility of Mike's voice from quiet to impassioned. Then there's a brilliantly infectious Shred Mix of Winter, as well as some other extended and bonus moments.
Wolf River is an added gem, blending Santana tones with that hint of Jeff Buckley meets Ricky Martin vocal style, before The Hard (Damn) Truth more than delivers upon the raw ache implied by its title, wrapping things up with a solo guitar and voice that softly pour through for a heartbroken curtain call.
Admittedly one to be revisited, Curve Of The Earth offers a handful of brilliant instances of both writing and performance, and delves into some profoundly human topics. The vibes remain relevant, perhaps more so in reflecting the past and connecting it to now.
Latest Track
Bandzoogle's Music feature allows you to sell your albums and tracks - and we never take a percentage of your sales. Choose from set prices, free downloads, or even give away a track in exchange for a mailing list signup!
Shows
Our Events feature allows you to post your upcoming concerts and events on your website in a calendar or list view. The Pro plan even lets you sell tickets directly through your website!